SONY ONLINE ENTERTAINMENT DECIDES TO PUSH CRUDDY GAMES AT US INSTEAD OF GIVING US FREE REALMS BACK !
I remember Free Realms every day I come online. Ever since it's shut down I've looked for a better RPG to play. But not ONE captured that magical essence that free Realms had. And the only thing happening with Free Realms is nothing. It's gone and SOE is too lazy to see that it probably made more money than these other cruddy games their pushing at us.
EverQuest I or EverQuest II
EverQuest is a simple cruddy RPG that tricks you into playing. I've played it for 30 minutes, and I already recognize that It's tricking you into playing. To get a kill at a low level it takes about 5 minutes of rapidly clicking on the enemy. During this time, I also discovered that every high level in the game is in low-level areas killing the mobs you try to kill. Then do it again and again and again. The community is just... horrible. After these 30 or so minutes of playing I quickly exited the game and uninstalled it. It was simply terrible.
THE GOODS OF FREE REALMS
It's not a pay to win game. All of the buyable items are mainly just for looks. The actual overpowered ones have rank requirements on them. Unlike EverQuest, of course.
It is REALLY family friendly. It's a great RPG/MMO with a nice kid friendly tone to it. It's colorful even in the darkest parts of it and it's not too complicated like some other RPGs.
You don't have to spend much money on it. If you're dedicated to can buy a membership to rank your character higher than level 5. This option is simply for people wishing to continue to play the game if they are interested in playing on the game more. Great feature unlike many other pay to play games.
NOT A BUTTON MASHER ! I absolutely hate button mashers, and Free Realms isn't! The damage in the weapons is evened out greatly with the enemies' health so you only need to click 3-4 times before they are dead. (Unless it's a boss or a super high level mob)
IT'S BETTER THAN EVERQUEST! Like I said, I've been looking for a RPG and I've played many of them. All of the other MMOs/RPGs take up a ton of memory and Free Realms takes up little to none. You can run it on a pretty slow computer without lagging a ton unlike other memory wasting RPGs.
BRING ALL THIS BACK !
http://www.change.org/petitions/sony-online-entertainment-please-save-free-realms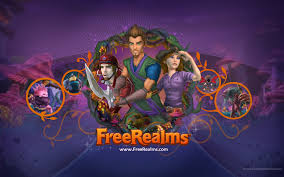 Community content is available under
CC-BY-SA
unless otherwise noted.