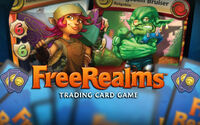 The 
Trading Card Game
is a card game based on the Free Realms world. Players can purchase booster packs from the
Station Cash Marketplace
, where normal booster packs will include 10 random trading cards and 1
virtual reward
card based on the booster pack series. Players can trade purchased booster packs, individual cards, and loot cards through the Trading Card Game Lobby.
Players with an active Membership have the opportunity to receive one monthly complimentary Series 4 booster pack that is delivered on the start of each month. Cards along with the Booster pack itself that were obtained through the complimentary membership pack cannot be traded[1].
Series 1 Virtual Rewards List
Cards #2 to 51 are in physical Booster Packs only
Cards #52 to 101 are in virtual Booster Packs only
Passport to Free Realms - 1L1 (Available only in physical Starter Packs)
Audrey's Special Salad - 1L2
Beautiful Bouquet - 1L3
Booming Blue Firecrackers - 1L4
Kitty Princess Collar - 1L5
Kitty Princess Gown - 1L6
Kitty Princess Slippers - 1L7
Kitty Princess Tiara - 1L8
Burnt Toast - 1L9
Ceremonial Bone Wand - 1L10
Ceremonial Bonesaw - 1L11
Ceremonial Hammer - 1L12
Ceremonial Mantis Bow - 1L13
Chicken Feed - 1L14
Chugawug Bandit Mask - 1L15
Chugawug Brew - 1L16
Crazy Coin Scroll - 1L17
Cupcake of Tim the Tiny - 1L18
Electric Oil Diamond Shard - 1L19
Fiery Oil Diamond Shard - 1L20
Glow Cookie - 1L21
Glowing Contacts - 1L22
Ho-Hum Hammer - 1L23
Icicle Ice Cream - 1L24
Kitty Ninja Gi - 1L25
Kitty Ninja Pawguards - 1L26
Laughter Latte - 1L27
Money Hat - 1L28
Morphing Ball of Yarn - 1L29
Jumbo Health Potion - 1L30
Jumbo Mana Potion - 1L31
Jumbo Replenishing Potion - 1L32
Penguin Feather Mask - 1L33
Pixachino - 1L34
Players Club Card - 1L35
Pretty Princess Hat - 1L36
Rainbowopsicle - 1L37
Red Dragon Firecrackers - 1L38
Robgoblin Treasure Trove - 1L39
Rocker Hat - 1L40
Rocker Pants - 1L41
Rocker Sneakers - 1L42
Rocker Vest - 1L43
Seeing Stars Telescope - 1L44
Sizzling Frying Pan - 1L45
Sparkling Tiara - 1L46
Spinner Cap - 1L47
Super Star Scroll - 1L48
Thousand Pound Cake - 1L49
Toyger Whistle - 1L50
Traffic Cone Hat - 1L51
Banana Suit - 1L52
Bandit Burger - 1L53
Batwing Cookie - 1L54
Bean Burrito - 1L55
Bottle of Butterflies - 1L56
Card Shark Trilby - 1L57
Ceremonial Jeweled Axe - 1L58
Ceremonial Shadowblade - 1L59
Chicken Hat - 1L60
Crazy Coin Scroll - 1L61
Crimson Rose - 1L62
Cupcake of Tim the Tiny - 1L63
Dunce Cap - 1L64
Flaming Jalapeno Pepper - 1L65
Floppy Fish - 1L66
Goblin Smith Apple - 1L67
Heart Candy - 1L68
Ice Cream Sandwich - 1L69
Icy Oil Diamond Shard - 1L70
Kitty Ninja Cowl - 1L71
Jumbo Health Potion - 1L72
Jumbo Mana Potion - 1L73
Jumbo Replenishing Potion - 1L74
Lilipad Lollipop - 1L75
Man-Eating Plant Mask - 1L76
Morphing Dog Bone - 1L77
Paper Hat - 1L78
Players Club Card - 1L79
Pointy Pickaxe - 1L80
Pug Whistle - 1L81
Robgoblin Cooking Mask - 1L82
S.S. Dingy Paddle - 1L83
Skater Beanie - 1L84
Skater Kicks - 1L85
Skater Shirt - 1L86
Skater Shorts - 1L87
Skylightning Firecracker - 1L88
Doggy Island Lei - 1L89
Doggy Island Sandals - 1L90
Doggy Island Shirt - 1L91
Doggy Island Sunglasses - 1L92
Doggy Swashbuckler Collar - 1L93
Doggy Swashbuckler Hat - 1L94
Doggy Swashbuckler Peg Leg - 1L95
Doggy Swashbuckler Vest - 1L96
Sparkly Oil Diamond Shard - 1L97
Super Star Scroll - 1L98
Superstar Spotlight - 1L99
Thick Pocket Book - 1L100
Thousand Pound Cake - 1L101
S'mores Stick - 1LP1 (Exists only as a physical card; not redeemable in-game)
Fan Faire '09 T-Shirt - 1LP2 (Promo card given to Fan Faire participants)
These are not codes for these items; they can be found in packs, but are very rare. So, don't count on these to be codes to redeem for the item.
Cards #1P34 to 1P52 are Physical cards that came with a redemption code for in-game use
Brody Sparfist - 1R1 - Rare
Bullseye - 1R2 - Rare
Ernie - 1U3 - Uncommon
Finneus Farstrider - 1R4 - Rare
Michi - 1R5 - Rare
Nirvi - 1U6 - Uncommon
Nurse Naia - 1R7 - Rare
Pappy Farnum - 1R8 - Rare
Sakka - 1R9 - Rare
Simone - 1R10 - Rare
Angry Yeti - 1C11 - Common
Banshee Boss - 1R12 - Rare
Forest Troll Archer - 1U13 - Uncommon
Forest Troll Guardian - 1U14 - Uncommon
Forest Troll Scout - 1U15 - Uncommon
Forest Troll Shaman - 1U16 - Uncommon
Hooligan Archer - 1R17 - Rare
Hooligan Brawler - 1C18 - Common
Hooligan Leader - 1R19 - Rare
Invading Bixie Elite - 1U20 - Uncommon
Invading Bixie Mage - 1C21 - Common
Invading Bixie Warrior - 1R22 - Rare
Mauthe Dog - 1C23 - Common
Robgoblin Boss - 1U24 - Uncommon
Robgoblin Bruiser - 1C25 - Common
Robgoblin Burglar - 1U26 - Uncommon
Robgoblin Mage - 1R27 - Rare
Robgoblin Sorceress - 1R28 - Rare
Shadow Talon Archer - 1C29 - Common
Shadow Talon Swordmaster - 1C30 - Common
Troll Queen - 1R31 - Rare
Yeti Chief - 1C32 - Common
All-Out Attack - 1R33 - Rare
Blade Strike - 1R34 - Rare
Blow Up Real Good - 1U35 - Uncommon
Cleaning House - 1R36 - Rare
Gotcha! - 1C37 - Common
Pillage the Village - 1U38 - Uncommon
Snowed Under - 1U39 - Uncommon
Surprise! - 1C40 - Common
Tipping the Hive - 1C41 - Common
Bixie Stick - 1C42 - Common
Creepy Laughter - 1U43 - Uncommon
Hold 'Em Down - 1R44 - Rare
Honor Among Thieves - 1U45 - Uncommon
Knuckle Sandwich - 1C46 - Common
Onion Breath - 1C47 - Common
Raising a Mob - 1R48 - Rare
Send Help - 1U49 - Uncommon
Sneakiness - 1R50 - Rare
Stinky Feet - 1C51 - Common
Apprentice Miner - 1U52 - Uncommon
Apprentice Smith - 1C53 - Common
Armorsmith - 1R54 - Rare
Assistant Smith - 1C55 - Common
Chicken Bomber - 1C56 - Common
Demolition Derby Driver - 1R57 - Rare
Dwarf Mining Master - 1R58 - Rare
Dwarven Digger - 1U59 - Uncommon
Dwarven Salvager - 1C60 - Common
Furnace Golem - 1R61 - Rare
Helpful Steam Monkey - 1C62 - Common
Kart Driver - 1U63 - Uncommon
Offensive Driver - 1U64 - Uncommon
Overheated Furnace Golem - 1C65 - Common
Pit Crew Member - 1C66 - Common
Pryotechnician - 1U67 - Uncommon
ROFLE - 1U68 - Uncommon
Security Bot - 1U69 - Uncommon
Smokey Blacksmith - 1R70 - Rare
Speed Demon - 1R71 - Rare
Steam Engineer - 1R72 - Rare
Weaponsmith - 1C73 - Common
Discovery - 1U74 - Uncommon
From the Trash Bin - 1U75 - Uncommon
Hard Work - 1U76 - Uncommon
Left in the Dust - 1C77 - Common
Long Shot - 1R78 - Rare
Mystery Machine - 1U79 - Uncommon
Read the Manual - 1C80 - Common
Sudden Strike - 1R81 - Rare
Under the Hood - 1C82 - Common
You Go First - 1R83 - Rare
Fall Back - 1C84 - Common
Fast-Talk - 1U85 - Uncommon
Going Nuts - 1U86 - Uncommon
Hammer Strike - 1C87 - Common
Makeshift Defense - 1U88 - Uncommon
Screw Loose - 1R89 - Rare
Slide - 1R90 - Rare
Spring Forward - 1C91 - Common
Squeaky Wheel - 1C92 - Common
Tiptoe - 1R93 - Rare
Turbo Charged - 1U94 - Uncommon
Arctic Frostfang - 1C95 - Common
Briarwood Tree Soldier - 1R96 - Rare
Changeling Cook - 1U97 - Uncommon
Changeling Elder - 1R98 - Rare
Changeling Mage - 1U99 - Uncommon
Changeling Ninja - 1U100 - Uncommon
Changeling Rock Warrior - 1C101 - Common
Changeling Sentry - 1C102 - Common
Changeling Thief - 1U103 - Uncommon
Ferocious Frostfang - 1R104 - Rare
Fierce Bear - 1C105 - Common
Fire Toad - 1C106 - Common
Forest Giant Sentry - 1R107 - Rare
Frostfang Cub - 1C108 - Common
Frostfang Wolf - 1C109 - Common
Giant Eagle - 1U110 - Uncommon
Giant Toad - 1R111 - Rare
Hidden Floren - 1R112 - Rare
Mushroon Giant Boss - 1R113 - Rare
Mushroon Giant Warlord - 1U114 - Uncommon
Poison Toad - 1C115 - Common
Wolf Vine Golem - 1U116 - Uncommon
Bandages - 1U117 - Uncommon
Easy Money - 1U118 - Uncommon
Fresh Sprout - 1R119 - Rare
Harvesting the Crop - 1C120 - Common
Monkey Stance - 1R121 - Rare
Move Out! - 1C122 - Common
Scatter Shot - 1U123 - Uncommon
Stampede - 1R124 - Rare
Sudden Strength - 1C125 - Common
Whirlwind Attack - 1U126 - Uncommon
Bat Attack! - 1C127 - Common
Bear Hug - 1U128 -Uncommon
Briarwood Standoff - 1R129 - Rare
Camouflage - 1U130 - Uncommon
Come Get Some - 1R131 - Rare
Dive Bomb - 1C132 - Common
Echoing Roar - 1U133 - Uncommon
Feral Reinforcements - 1C134 - Common
Razor Teeth - 1U135 - Uncommon
Sloppy Wet Kiss - 1R136 - Rare
Vine Tangle - 1C137 - Common
Chef-in-Training - 1C138 - Common
Chugawug Bodyguard - 1U139 - Uncommon
Chugawug Brewmaster - 1U140 - Uncommon
Chugawug Brewsampler - 1C141 - Common
Chugawug Captain - 1R142 - Rare
Chugawug Cook - 1C143 - Common
Chugawug Sentry - 1C144 - Common
Chugawug Spearman - 1U145 - Uncommon
Lazy Guard - 1C146 - Common
Ninja Master - 1R147 - Rare
Pastry Chef - 1C148 - Common
Pixie Commander - 1U149 - Uncommon
Pixie General - 1R150 - Rare
Royal Archer - 1R151 - Rare
Royal Mage - 1R152 - Rare
Royal Medic - 1R153 - Rare
Sanctuary Courier - 1U154 - Uncommon
Sanctuary Peacekeeper - 1U155 - Uncommon
Short-Order Cook - 1C156 - Common
Soaring Eagle - 1C157 - Common
Star-Throwing Ninja - 1U158 - Uncommon
Sword-Wielding Ninja - 1R159 - Rare
Alive Again - 1U160 - Uncommon
A Little Help - 1R161 - Rare
Move Along - 1R162 - Rare
Rescue Mission - 1C163 - Common
Run! - 1U164 - Uncommon
Shock - 1U165 - Uncommon
Sleeping on Duty - 1R166 - Rare
Special Delivery - 1C167 - Common
Stalking the Night - 1U168 - Uncommon
Wake-Up Call - 1C169 - Common
Belch - 1U170 - Uncommon
Cut Down to Size - 1U171 - Uncommon
Heavy Meal - 1U172 - Uncommon
Heavy Stomp - 1C173 - Common
Here's the Cavalry! - 1R174 - Rare
Judo Chop - 1C175 - Common
Just Desserts - 1R176 - Rare
Oh, It's On! - 1C177 - Common
The Ol' One-Two - 1R178 - Rare
Pie in the Face - 1U179 - Uncommon
Royal Decree - 1C180 - Common
Morninglory - 1S181 - Starter
Gloam Agent - 1S182 - Starter
Robgoblin Cook - 1S183 - Starter
Avalanche - 1S184 - Starter
Caution - 1S185 - Starter
Goblin Frenzy - 1S186 - Starter
Chaz Strongarm - 1E187 - Exclusive
Pixie Troublemaker - 1E188 - Exclusive
Rock Toss - 1E189 - Exclusive
Have a Nice Trip! - 1E190 - Exclusive
Scary Chest Thump - 1E191 - Exclusive
Pit Crew Foreman - 1E192 - Exclusive
Big Red Button - 1E193 - Exclusive
Golem Rampage - 1E194 - Exclusive
Breakthrough - 1E195 - Exclusive
Crafty Man-Eating Plant - 1E196 - Exclusive
Stolen Away - 1E197 - Exclusive
Straight Shot - 1E198 - Exclusive
Extend Claws - 1E199 - Exclusive
Chugawug Sergant - 1E200 - Exclusive
Explosive Arrows - 1E201 - Exclusive
Return to Sender - 1E202 - Exclusive
Pixie Party Hat - 1P1 - Promo (Removed from Series 1; returned to game in Series 2)
Rain of Arrows - 1P2 - Promo (Obtained through Card Duelist job questline)
Wolf Companion - 1P3 - Promo (Obtained through Card Duelist job questline)
Sport Shades - 1P4 - Promo (Obtained through Card Duelist job questline)
Sam Potts - 1P5 - Promo (Obtained through Card Duelist job questline)
Sunder Forge Boot Stomp - 1P6 - Promo (Obtained through Card Duelist job questline)
Lucky Toad Companion - 1P7 - Promo (Obtained through Card Duelist job questline)
Anvil Song Apron - 1P8 - Promo (Obtained through Card Duelist job questline)
Poe Tatters - 1P9 - Promo (Obtained through Card Duelist job questline)
Berserker Shout - 1P10 - Promo (Obtained through Card Duelist job questline)
Vine Wolf Companion - 1P11 - Promo (Obtained through Card Duelist job questline)
Spiked Bracers - 1P12 - Promo (Obtained through Card Duelist questline)
Bry - 1P13 - Promo (Obtained through Card Duelist questline)
Anesthesia - 1P14 - Promo (Obtained through Card Duelist questline)
Raven Companion - 1P15 - Promo (Obtained through Card Duelist questline)
Reflex Hammer - 1P16 - Promo (Obtained through Card Duelist questline)
Garrison Gold - 1P17 - Promo (Obtained through Card Duelist job questline)
Shurken Toss - 1P18 - Promo (Obtained through Card Duelist job questline)
Ninja Fairy Companion - 1P19 - Promo (Obtained through Card Duelist job questline)
Revenant Gloom Armbands - 1P20 - Promo (Obtained through Card Duelist job questline)
Shifty the Shuffler - 1P21 - Promo (Obtained through Card Duelist job questline)
Sprint - 1P22 - Promo (Obtained through Card Duelist job questline)
Courier Eagle Companion - 1P23 - Promo (Obtained through Card Duelist job questline)
Whisk Wing Boots - 1P24 - Promo (Obtained through Card Duelist job questline)
Jammie Swiftsong - 1P25 - Promo (Obtained through Card Duelist questline)
Spin Attack - 1P26 - Promo (Obtained through Card Duelist questline)
Bear Companion - 1P27 - Promo (Obtained through Card Duelist questline)
Brawler Sword - 1P28 - Promo (Obtained through Card Duelist job questline)
Ari the Fish - 1P29 - Promo (Obtained through Card Duelist job questline)
Ice Nova - 1P30 - Promo (Obtained through Card Duelist questline)
Wizard Bat Companion - 1P31 - Promo (Obtained through Card Duelist questline)
Wizard Wand - 1P32 - Promo (Obtained through Card Duelist job questline)
Maple Sugarleaf - 1P33 - Promo (Obtained through Card Duelist job questline)
Level 1 Duelist on Demand - 1P34 - Promo
Level 5 Duelist on Demand - 1P35 - Promo
Level 10 Duelist on Demand - 1P36 - Promo
Level 15 Duelist on Demand - 1P37 - Promo
Adventurer - 1P38 - Promo
Ninja - 1P39 - Promo
Brawler - 1P40 - Promo
Chef - 1P41 - Promo
Warrior - 1P42 - Promo
Medic - 1P43 - Promo
Blacksmith - 1P44 - Promo
Miner - 1P45 - Promo
Archer - 1P46 - Promo
Postman - 1P47 - Promo
Wizard - 1P48 - Promo
Pet Trainer - 1P49 - Promo
Kart Driver - 1P50 - Promo
Demo Derby Driver - 1P51 - Promo
Card Duelist - 1P52 - Promo 
Series 2 Virtual Rewards List
Alligator Head - 2L1 Alligator Suit - 2L2
Arrow-thru-the-Head Hat - 2L3
Bag of Angel Feathers - 2L4
Brambleback Broiler Ring - 2L5
Briarheart Bandage Square Shard - 2L6
Briarsting Bow - 2L7
Briarwood Collector's Card - 2L8
Chatdy Backpack - 2L9
Doberman Whistle - 2L10
Doggy Paper Hat - 2L11
Duelist Utility Belt - 2L12
Fire Hydrant Hat - 2L13
Frost Grenade - 2L14
Ginormous Health Potion - 2L15
Goth Boots - 2L16
Goth Coat - 2L17
Goth Gloves - 2L18
Goth Goggles - 2L19
Goth Pants - 2L20
Hip Hop Boom Box - 2L21
Kitty Frog Collar - 2L22
Kitty Frog Eyes - 2L23
Kitty Frog Legs - 2L24
Kitty Frog Skin - 2L25
Nettleseed Fungus - 2L26
Pink Mushroon Cap - 2L27
Punker Pants - 2L28
Purple Frog Mask - 2L29
Wolf T-Shirt - 2L30
Tiny Tournament Winnings - 2LP1 (Obtained through certain tournaments)
Small Tournament Winnings - 2LP2 (Obtained through certain tournaments)  
Medium Tournament Winnings - 2LP3 (Obtained through certain tournaments)
Large Tournament Winnings - 2LP4 (Obtained through certain tournaments)
Extra Large Tournament Winnings - 2LP5  (Obtained through certain tournaments)
Grand Tournament Winnings - 2LP6 (Obtained through certain tournaments)
Big Time Tournament Winnings - 2LP7 (Obtained through certain tournaments)
Champion's Tournament Winnings - 2LP8 (Obtained through certain tournaments)
Card Champion's Case - 2LP9 (Obtained through certain tournaments)
Card Champion's Hand - 2LP10 (Obtained through certain tournaments)
Card Champion's Rod - 2LP11 (Obtained through certain tournaments)
Card Champion's Sack - 2LP12 (Obtained through certain tournaments)
Card Champion's Shades - 2LP13 (Obtained through certain tournaments)  
Card Duelist Shirt - 2LP14  (Obtained through certain tournaments)
Duelist Machine Cap - 2LP15 (Obtained through certain tournaments)
Emo-Tor - 2LP16 (Temporarily given in a SC-item bundle, along with packs; can be traded)
Archnos - 2R1 - Rare
Captain Chugug - 2R2 - Rare
Cale Yardbird - 2R3 - Rare
Docaloc - 2R4 - Rare
Kirill Moonrunner - 2R5 - Rare
Tara - 2U6 - Uncommon
Animal Smuggler - 2R7 - Rare
Brutus the Betrayer - 2R8 - Rare
General Grexan - 2U9 - Uncommon
Mad Fungaloid - 2C10 - Common
Nuggino the Swift - 2C11 - Common
Robgoblin Swindler - 2R12 - Rare
Robgoblin Treasure Hunter - 2U13 - Uncommon
SRS Hunter - 2U14 - Uncommon
SRS Thug - 2U15 - Uncommon
Thugawug Sneak - 2R16 - Rare
Zargolut's Essence - 2C17 - Common
Corrupted Gem - 2C18 - Common
Driller - 2U19 - Uncommon
Good Times - 2U20 - Uncommon
Red Artifact Gem - 2R21 - Rare
Robgoblin Junk Pile - 2U22 - Uncommon
Shattered Mirror - 2C23 - Common
Backstab! - 2U24 - Uncommon
The Boot - 2R25 - Rare
Column of Fire - 2C26 - Common
Corruption - 2R27 - Rare
Lost! - 2U28 - Uncommon
Spooked! - 2C29 - Common
Archeologist - 2C30 - Common
Artifact Detector - 2R31 - Rare
Blacksmith Brix - 2R32 - Rare
Chugawug Builder - 2U33 - Uncommon
Chugawug Digger - 2U34 - Uncommon
Demo Demon - 2R35 - Rare
Dwarven Builder - 2U36 - Uncommon
Iron Penguin - 2C37 - Common
Lost Racer - 2C38 - Common
Rip Ringa - 2U39 - Uncommon
Weed Whacker - 2R40 - Rare
Archeology Tools - 2C41 - Common
Careless Driver - 2C42 - Common
Dwarven Efficiency - 2C43 - Common
Gold Artifact Shard - 2R44 - Rare
Krash Kart - 2C45 - Common
Mother Lode - 2U46 - Uncommon
Cogs in the Machine - 2C47 - Common
Duck! - 2U48 - Uncommon
Power Boost - 2U49 - Uncommon
Suit Up - 2C50 - Common
Undermine - 2R51 - Rare
Victory Lap - 2R52 - Rare
Arachnia - 2U53 - Uncommon
Bat - 2C54 - Common
Bristlewood Arachnid - 2C55 - Common
Bristlewood Buck - 2C56 - Common
Cursed Bear - 2R57 - Rare
Glimmer - 2U58 - Uncommon
Moldering Fungaloid - 2R59 - Rare
Mutated Tree Soldier - 2U60 - Uncommon
Nettleseed Nibbler - 2R61 - Rare
Nogg the Cruel - 2R62 - Rare
Ol' Snaggletooth - 2U63 - Uncommon
Briarmelon - 2U64 - Uncommon
Floren Toss - 2U65 - Uncommon
Game of Hide and Seek - 2C66 - Common
Greed - 2C67 - Common
Green Artifact Shard - 2R68 - Rare
Treeleaf's Retreat - 2U69 - Uncommon
Blade Dance - 2C70 - Common
New Growth - 2R71 - Rare
Poison Aura - 2C72 - Common
Rooted - 2C73 - Common
Vine Swing - 2U74 - Uncommon
Wall of Thorns - 2R75 - Rare
Apprentice Mage - 2R76 - Rare
Briarwood Ninja - 2R77 - Rare
Camp Cook - 2C78 - Common
Farmer Bramblback - 2U79 - Uncommon
Gorg - 2R80 - Rare
Lieutenant Snibug - 2R81 - Rare
Tanglewood Patroller - 2U82 - Uncommon
Tanglewood Recruit - 2C83 - Common
Tanglewood Soldier - 2C84 - Common
Tanglewood Trainee - 2U85 - Uncommon
Ty - 2R86 - Rare
Blue Artifact Shard - 2R87 - Rare
Bogged Down - 2U88 - Uncommon
Cannonball - 2C89 - Common
Sneaky Suit - 2U90 - Uncommon
Stalemate - 2C91 - Common
Target Practice - 2U92 - Uncommon
Chuck a Mug - 2U93 - Uncommon
Easy Target - 2C94 - Common
Kitchen Cleanup - 2U95 - Uncommon
One Foot in the Grave - 2R96 - Rare
Someone Your Own Size - 2R97 - Rare
Two for One - 2C98 - Common
Troll Spider Trainer - 2S99 - Starter 
Gadget Maker - 2S100 - Starter 
Netallie - 2S101 - Starter  
Snorg - 2S102 - Starter 
Panic! - 2P0 - Promo (Removed from game) 
  Teamwork - 2P0 - Promo (Removed from game)
Power Nap - 2P1 - Promo (Obtained by beating Dominic's "Friendly Deck")
Ambrose Worcester - 2P2 - Promo (Obtained by beating Dominic's "Challenge Deck")
Weapon Crate - 2P3 - Promo  (Obtained by beating Esther's "Friendly Deck")
Mustang Alli - 2P4 - Promo  (Obtained by beating Esther's "Challenge Deck")
Turned Into a Cow - 2P5 - Promo (Obtained through Shattered Past questline)
Corrupted Vulture - 2P6 - Promo (Obtained through Shattered Past questline)
Intimidation - 2P7 - Promo (Obtained through Shattered Past questline)
Dominic the Brawn - 2P8 - Promo (Obtained through Shattered Past questline)
Start Digging! - 2P9 - Promo (Obtained through Shattered Past questline)
Crystal Mine Foreman - 2P10 - Promo (Obtained through Shattered Past questline)
Broken Pottery - 2P11 - Promo (Obtained through Shattered Past questline)
Esther the Brains - 2P12 - Promo (Obtained through Shattered Past questline)
From Above - 2P13 - Promo (Obtained through Shattered Past questline)
Mushroom Ring - 2P14 - Promo (Obtained through Shattered Past questline)
Stuck in a Tree - 2P15 - Promo (Obtained through Shattered Past questline)
Tyrone Shadowshard - 2P16 - Promo (Obtained through Shattered Past questline)
Hat Trick - 2P17 - Promo (Obtained through Shattered Past questline)
Sweetwater Sasperilla - 2P18 - Promo (Obtained through Shattered Past questline)
Wellington's Dig - 2P19 - Promo (Obtained through Shattered Past questline)
Sir Wellington - 2P20 - Promo (Obtained through Shattered Past questline)
Sperry the Sporologist - 2P21 - Promo (Unknown how to get the card at this time)
Changeling Ninja Leader - 2P22 - Promo (Unknown how to get the card at this time)
Potion Vendor - 2P23 - Promo (Unknown how to get the card at this time)
Chief Bilgragum - 2P24 - Promo  (Unknown how to get the card at this time)
Pixie Party Hat - 2P25 - Promo (Obtained through certain tournaments)
Unga Frostclaw - 2P26 - Promo (Obtained through certain tournaments)
Frost Claw Swipe - 2P27 - Promo (Obtained through certain tournaments)
Geomancer Hailstorm - 2P28 - Promo (Obtained through certain tournaments)
Storm of Hail - 2P29 - Promo (Obtained through certain tournaments)
Hildegarde - 2P30 - Promo (Obtained through certain tournaments)
Magic Unleashed - 2P31 - Promo (Obtained through certain tournaments)
Azure - 2P32 - Promo (Obtained through certain tournaments)
Lazi - 2P33 - Promo (Obtained through certain tournaments)
Blue Blast - 2P34 - Promo (Obtained through certain tournaments)
Inspiration - 2P35 - Promo (Obtained through certain tournaments)
Up the Wall - 2P36 - Promo (Obtained through certain tournaments)
Thorns - 2P37 - Promo (Obtained through certain tournaments)
Shadow Ambush - 2P38 - Promo (Obtained through certain tournaments)
Miss Artie - 2P39 - Promo (Obtained through certain tournaments)
SRS Archeologist - 2P40 - Promo (Obtained through certain tournaments)
Dwarven Wrecking Crew - 2P41 - Promo (Obtained through certain tournaments)
Gloompetal - 2P42 - Promo (Obtained through certain tournaments)
Chugawug Tower Captain - 2P43 - Promo (Obtained through certain tournaments)
Darrel - 2P44 - Promo (Obtained through certain tournaments)
Thar She Blows! - 2P45 - Promo (Obtained through certain tournaments)
First Aid Vial - 2P46 - Promo (Obtained through certain tournaments)
Digging for Treasure - 2P47 - Promo (Obtained through certain tournaments)
Sasparilla Hose - 2P48 - Promo (Obtained through certain tournaments)
Vittorio - 2P49 - Promo (Obtained through certain tournaments)
Edwin Goldstory - 2P50 - Promo (Temporarily given in a SC-item bundle, along with packs; can be traded)
Commander Kluggenkrush - 2P51 - Promo (Temporarily given in a SC-item bundle, along with packs; can be traded)
Series 3 Virtual Rewards List
Glacierator 5000 - 3L1 (Renamed from Zamboni Ride)
Clockwork Beetle Pet - 3L2
Sunstone Valley Lot - 3L3
Shuffle Shooter - 3L4
Baron von Darkcheat Costume - 3L5
Cardigan (Red) - 3L6
Cardigan (Yellow) - 3L7 (Removed from Series 3, returned to game in Series 4)
Cardigan (Green) - 3L8
Cardigan (Blue) - 3L9
Cardigan (Purple) - 3L10 (Removed from Series 3, returned to game in Series 4)
Boat Shoes (Red) - 3L11
Boat Shoes (Yellow) - 3L12 (Removed from Series 3, returned to game in Series 4)
Boat Shoes (Green) - 3L13
Boat Shoes (Blue) - 3L14
Boat Shoes (Purple) - 3L15 (Removed from Series 3, returned to game in Series 4)
Tucked Hipster Pants (Red) - 3L16
Tucked Hipster Pants (Yellow) - 3L17 (Removed from Series 3, returned to game in Series 4)
Tucked Hipster Pants (Green) - 3L18
Tucked Hipster Pants (Blue) - 3L19
Tucked Hipster Pants (Purple) - 3L20 (Removed from Series 3, returned to game in Series 4)
Flannel Button-Up (Red) - 3L21
Flannel Button-Up (Yellow) - 3L22 (Removed from Series 3, returned to game in Series 4)
Flannel Button-Up (Green) - 3L23
Flannel Button-Up (Blue) - 3L24
Flannel Button-Up (Purple) - 3L25 (Removed from Series 3, returned to game in Series 4)
Plaid Kicks (Red) - 3L26
Plaid Kicks (Yellow) - 3L27 (Removed from Series 3, returned to game in Series 4)
Plaid Kicks (Green) - 3L28
Plaid Kicks (Blue) - 3L29
Plaid Kicks (Purple) - 3L30 (Removed from Series 3, returned to game in Series 4)
Plaid Baseball Cap (Red) - 3L31
Plaid Baseball Cap (Yellow) - 3L32 (Removed from Series 3, returned to game in Series 4)
Plaid Baseball Cap (Green) - 3L33
Plaid Baseball Cap (Blue) - 3L34
Plaid Baseball Cap (Purple) - 3L35 (Removed from Series 3, returned to game in Series 4)
Precursor Arch (5 Pack) - 3L36
Precursor Cylinder Block (5 Pack) - 3L37
Precursor Flat Square Block (5 Pack) - 3L38
Precursor Block (10 Pack) - 3L39
Precursor Rectangle Block (5 Pack) - 3L40
Duelist Bandolier - 3L41 (Obtained through certain tournaments)
Arci Joan - 3R1 - Rare
Commander Kraken - 3R2 - Rare
Drill Sergeant Dewey - 3R3 - Rare
Jonathon Forkpath - 3R4 - Rare
Lucca De'Flor - 3R5 - Rare
Nenjai - 3R6 - Rare
Black Tom Cutlass - 3U7 - Uncommon
Frosty Yeti - 3R8 - Rare
Ice Troll Champion - 3R9 - Rare
Ice Wolf Trainer - 3C10 - Common
Icy Yeti - 3U11 - Uncommon
Jolly Roger - 3U12 - Uncommon
Robgoblin Hoarder - 3C13 - Common
Robgoblin Lookout - 3C14 - Common
Robgoblin Wizard - 3C15 - Common
SRS Bully - 3C16 - Common
SRS Geomancer - 3U17 - Uncommon
Taraz - 3R18 - Rare
Frozen Solid - 3U19 - Uncommon
Overrun - 3U20 - Uncommon
Robgoblin Kaboom Box - 3R21 - Rare
Snowy Canyon - 3C22 - Common
Striking Serpent Sword - 3U23 - Uncommon
The Gloamstone - 3R24 - Rare
Freeze Breath - 3R25 - Rare
Ground Pound - 3U26 - Uncommon
Ice Clap - 3U27 - Uncommon
Icicles - 3C28 - Common
Quake - 3R29 - Rare
Snowman Ambush - 3R30 - Rare
Burt 'Wrecking' Crewe - 3R31 - Rare
Captain Ironsides - 3C32 - Common
Chugawug Miner - 3U33 - Uncommon
Frost Ridge Derby Driver - 3U34 - Uncommon
Frost Ridge Racer - 3C35 - Common
Kart Mechanic - 3R36 - Rare
Robgoblin Engineer - 3C37 - Common
Spruce Waynehammer - 3R38 - Rare
SRS Flamethrower - 3U39 - Uncommon
Toolmaster - 3R40 - Rare
Trainee Miner - 3C41 - Common
Trapped Miner - 3U42 - Uncommon
Excavation - 3U43 - Uncommon
Frost Ridge Raceway - 3C44 - Common
Lucky Pick - 3U45 - Uncommon
Runaway Mine Cart - 3C46 - Common
Singing Crystal Mine - 3C47 - Common
Trapped - 3R48 - Rare
Broadside Blast - 3C49 - Common
First Aid - 3U50 - Uncommon
Make a Hole - 3C51 - Common
Snow Jump - 3R52 - Rare
Spin Out - 3R53 - Rare
Thin Ice - 3U54 - Uncommon
Chip Numbwing - 3U55 - Uncommon
Deep Cave Bat - 3C56 - Common
Elder Frostfang Wolf - 3U57 - Uncommon
Fishbone Willy - 3C58 - Common
Frostfang Growler - 3R59 - Rare
Frostfang Snarler - 3C60 - Common
Hungry Phasing Crawler - 3R61 - Rare
Ice Crawler - 3U62 - Uncommon
Mistress Kala Mari - 3C63 - Common
Restless Cow - 3U64 - Uncommon
SRS Trained Polar Bear - 3R65 - Rare
Wild Fang - 3R66 - Rare
Call the Pack - 3R67 - Rare
Frostfang Cave - 3C68 - Common
Ice Skates - 3U69 - Uncommon
Penguin Training Institute - 3C70 - Common
Snowberry - 3U71 - Uncommon
Top of the World - 3U72 - Uncommon
Bursting Through - 3U73 - Uncommon
Chillblaine's Trap - 3R74 - Rare
Chilling Howl - 3C75 - Common
Dragon Strike - 3C76 - Common
Penguin Slide - 3C77 - Common
Spider Stomp - 3R78 - Rare
Admiral Fishfinder - 3U79 - Uncommon
Home Guard Captain - 3R80 - Rare
Mayor Crystalline - 3R81 - Rare
Mercenary Brawler - 3U82 - Uncommon
Mercenary Warrior - 3U83 - Uncommon
Snowhill Defender - 3R84 - Rare
Snowhill Home Guard - 3C85 - Common
Speedy Postman - 3U86 - Uncommon
SRS Scout Defector - 3C87 - Common
Steele - 3C88 - Common
Warrior Trainee - 3C89 - Common
Wild Animal Trainer - 3R90 - Rare
Crystal Barrier - 3C91 - Common
Go Ice-Fish - 3U92 - Uncommon
Sacred Spatula - 3U93 - Uncommon
Silversnow's Fruitcake - 3U94 - Uncommon
Snowhill Protector - 3R95 - Rare
Snowhill Stage - 3C96 - Common
Bait and Switch - 3R97 - Rare
Commanding Shout - 3U98 - Uncommon
Dunked - 3U99 - Uncommon
Keep the Beat - 3R100 - Rare
Shooshboom - 3C101 - Common
Snowproof - 3C102 - Common
Yeti Overlord - 3S1 - Starter
Mad Kart Driver - 3S2 - Starter
Green Tree Soldier - 3S3 - Starter
Royal Guard - 3S4 - Starter
Bruce - 3P1 - Promo (Unknown how to obtain the card at this time)
Ice Wolf Master - 3P2 - Promo (Obtained through Baron questline)
Yeti Pounder - 3P3 - Promo (Obtained through Baron questline)
Hot Springs Haven - 3P4 - Promo (Obtained through Baron questline)
Penguin Bowling - 3P5 - Promo (Obtained through Baron questline)
Pummel - 3P6 - Promo (Obtained through Baron questline)
Buren - 3P7 - Promo (Obtained through Baron questline)
Snowplower - 3P8 - Promo (Obtained through Baron questline)
Sparks' Toolbox - 3P9 - Promo (Obtained through Baron questline)
Warlord Axe - 3P10 - Promo (Obtained through Baron questline)
Spinning Blade - 3P11 - Promo (Obtained through Baron questline)
Turbo Skater - 3P12 - Promo (Obtained through Baron questline)
Unlucky Angler - 3P13 - Promo (Obtained through Baron questline)
Frozen Over - 3P14 - Promo (Obtained through Baron questline)
Savage Sting Bow - 3P15 - Promo (Obtained through Baron questline)
Clever Kick - 3P16 - Promo (Obtained through Baron questline)
Soccer Superstar - 3P17 - Promo (Obtained through Baron questline)
Turnip Farmer - 3P18 - Promo (Obtained through Baron questline)
Hot Springs Pool - 3P19 - Promo (Obtained through Baron questline)
Relaxing Dip - 3P20 - Promo (Obtained through Baron questline)
Dark Deal - 3P21 - Promo (Obtained through Baron questline)
Baron von Darkcheat - 3P22 - Promo (Obtained through Baron questline)
Ree Peatpants - 3P23 - Promo (Obtained through Baron questline)
Perry - 3P24 - Promo (Obtained through Baron questline)
Scarlet Shadeveil - 3P25 - Promo (Obtained through Baron questline)
Ice Troll Scout - 3P26 - Promo (Unknown how to obtain the card at this time)
Noisy Neighbors - 3P27 - Promo (Unknown how to obtain the card at this time)
Boombox - 3P28 - Promo (Unknown how to obtain the card at this time)
Lying in Wait - 3P29 - Promo (Unknown how to obtain the card at this time)
Target Vitals - 3P30 - Promo (Unknown how to obtain the card at this time)
Sasparilla Merchant - 3P31 - Promo (Unknown how to obtain the card at this time)
Series 4 Virtual Rewards List
Drake - 4L1 Gloam Clone PetPal - 4L2
Shrouded Gloam Lot - 4L3
Crackshot Costume - 4L4
Magetech Costume - 4L5
Wildclaw Costume - 4L6
Ghostshadow Costume - 4L7
Cardigan (Yellow) - 4L8
Cardigan (Purple) - 4L9
Cardigan (Black) - 4L10
Boat Shoes (Yellow) - 4L11
Boat Shoes (Purple) - 4L12
Boat Shoes (Black) - 4L13
Tucked Hipster Pants (Yellow) - 4L14
Tucked Hipster Pants (Purple) - 4L15
Tucked Hipster Pants (Black) - 4L16
Flannel Button-Up (Yellow) - 4L17
Flannel Button-Up (Purple) - 4L18
Flannel Button-Up (Black) - 4L19
Plaid Kicks (Yellow) - 4L20
Plaid Kicks (Purple) - 4L21
Plaid Kicks (Black) - 4L22
Plaid Baseball Cap (Yellow) - 4L23
Plaid Baseball Cap (Purple) - 4L24
Plaid Baseball Cap (Black) - 4L25
Gloam Arch Block (5 Pack) - 4L26
Gloam Cylinder Block (5 Pack) - 4L27
Gloam Flat Square Block (5 Pack) - 4L28
Gloam Block (10 Pack) - 4L29
Gloam Rectangle Block (5 Pack) - 4L30
Epic Darkcheat Trophy - 4L31 (Obtained through certain tournaments)
Gold Darkcheat Trophy - 4L32 (Obtained through certain tournaments)
Silver Darkcheat Trophy - 4L33 (Obtained through certain tournaments)
Bronze Darkcheat Trophy - 4L34 (Obtained through certain tournaments)
Crackshot Poster - 4L35 (Obtained through certain tournaments)
Magetech Poster - 4L36 (Obtained through certain tournaments)
Wildclaw Poster - 4L37 (Obtained through certain tournaments)
Ghostshadow Poster - 4L38 (Obtained through certain tournaments)
Crackshot - 4U1 - Uncommon
Ghostshadow - 4U2 - Uncommon
Madam Zelda - 4R3 - Rare
Magetech - 4C4 - Common
Sirdo, King of Squirrels - 4R5 - Rare
Wildclaw - 4C6 - Common
Robgoblin Boomer - 4U7 - Uncommon
Robgoblin Fishmonger - 4C8 - Common
Robgoblin Geomancer - 4R9  -Rare
Thugawug Bumbler - 4U10 - Uncommon
Thugawug Ruffian - 4C11 - Common
Thugawug Thug - 4R12 - Rare
Bandit Hideout - 4R13 - Rare
Fang - 4U14 - Uncommon
Hammer of the Wolf - 4C15 - Common
Detonate - 4C16 - Common
Hammer Toss - 4R17 - Rare
Ready to Rumble - 4U18 - Uncommon
Bunsen Nolts - 4R19 - Rare
Motorspark Mechanic - 4U20 - Uncommon
Shady Smuggler - 4C21 - Common
Slickshoes Serviceman - 4C22 - Common
Smuggler Boss - 4U23 - Uncommon
Smuggler Han - 4R24 - Rare
Sparky - 4U25 - Uncommon
Wand of the Elements - 4C26 - Common
Wildwood Speedway - 4R27 - Rare
Energy Vortex - 4R28 - Rare
Magical Missile - 4C29 - Common
Protective Barrier - 4U30 - Uncommon
Hatched Stalkerling - 4C31 - Common
Necrosis - 4R32 - Rare
Old Creaky - 4R33 - Rare
Ribberto - 4U34 - Uncommon
Spawn of Necrosis - 4U35 - Uncommon
Toxic Toad - 4C36 - Common
Bow of the Sharpshooter - 4C37 - Common
Haunted Mines - 4R38 - Rare
King - 4U39 - Uncommon
Blizzard Blast - 4U40 - Uncommon
Lightning Call - 4R41 - Rare
Precise Shot - 4C42 - Common
Bergram Stumpfinger - 4R43 - Rare
Grave Elemental - 4U44 - Uncommon
Hall Monitor - 4U45 - Uncommon
Headmaster Merk - 4R46 - Rare
Tormented Spirit - 4C47 - Common
Wraith - 4C48 - Common B
lade of the Mist - 4C49 - Common
Drake - 4U50 - Uncommon
Ninja Dojo - 4R51 - Rare
Flame Flash - 4C52 - Common
Shadow Army - 4R53 - Rare
Shuriken Storm - 4U54 - Uncommon
Snarling Hedges - 4P1 - Promo (Obtained through Heroes questline)
Icy Arrow - 4P2 - Promo (Obtained through Heroes questline)
Nettleseed Pest - 4P3 - Promo (Obtained through Heroes questline)
Clancy Blackheart - 4P4 - Promo (Obtained through Heroes questline)
Robgoblin Mobile Home - 4P5 - Promo (Obtained through Heroes questline)
Roundhouse Kick - 4P6 - Promo (Obtained through Heroes questline)
Armored Robgoblin - 4P7 - Promo (Obtained through Heroes questline)
Freddy Slowhands - 4P8 - Promo (Obtained through Heroes questline)
Bone Bog Cemetery - 4P9 - Promo (Obtained through Heroes questline)
Dragon Talon - 4P10 - Promo (Obtained through Heroes questline)
Truant Druid - 4P11 - Promo (Obtained through Heroes questline)
Bud Grimyfoot - 4P12 - Promo (Obtained through Heroes questline)
Smuggler's Den - 4P13 - Promo (Obtained through Heroes questline)
Arcane Chain - 4P14 - Promo (Obtained through Heroes questline)
Big Paulie - 4P15 - Promo (Obtained through Heroes questline)
Baron von Darkcheat - 4P16 - Promo (Obtained through Heroes questline)
Thugawug Bandit - 4P17 - Promo (Obtained through certain tournaments)
Brawling Club - 4P18 - Promo (Unknown how to obtain the card at this time)
Repair Shop - 4P19 - Promo (Unknown how to obtain the card at this time)
Starshower - 4P20 - Promo (Unknown how to obtain the card at this time)
Multi-Shot - 4P21 - Promo (Unknown how to obtain the card at this time)
Evil Postman - 4P22 - Promo (Unknown how to obtain the card at this time)
Pumpkin Prince - 4P23 - Promo (Temporarily given in an SC-item bundle, along with packs; can be traded)
Abominable Snowman - 4P24 - Promo (Obtained through certain tournaments during Snow Days)
Series 5 Virtual Rewards List
Epic Rumbledome Trophy - 5P1 (Obtained through certain tournaments)
Gold Rumbledome Trophy - 5P2 (Obtained through certain tournaments)
Silver Rumbledome Trophy - 5P3 (Obtained through certain tournaments)
Bronze Rumbledome Trophy - 5P4 (Obtained through certain tournaments)
Milo E. Lizardo Wanted Poster - 5P5 (Obtained through certain tournaments)
Junkmaker Jort Wanted Poster - 5P6 (Obtained through certain tournaments)
Quizzical Yucca Wanted Poster - 5P7 (Obtained through certain tournaments)
Ironteeth Wanted Poster - 5P8 (Obtained through certain tournaments)
Chrome Feathered Drake - 5L1
Peaceful Sandscale Pet - 5L2
Rumbledome Lot - 5L3
Chaos Cowboy Hat - 5L4
Machine Hard Hat - 5L5
Nature Feather Headdress - 5L6
Order Police Hat - 5L7
Street Skater Beanie (Blue) - 5L8
Street Skater Tank Top (Blue) - 5L9
Street Skater Shorts (Blue) - 5L10
Street Skater Shoes (Blue) - 5L11
Street Skater Wristbands (Blue) - 5L12
Street Skater Beanie (Green) - 5L13
Street Skater Tank Top (Green) - 5L14
Street Skater Shorts (Green) - 5L15
Street Skater Shoes (Green) - 5L16
Street Skater Wristbands (Green) - 5L17
Street Skater Beanie (Red) - 5L18
Street Skater Tank Top (Red) - 5L19
Street Skater Shorts (Red) - 5L20
Street Skater Shoes (Red) - 5L21
Street Skater Wristbands (Red) - 5L22
Scrapyard Building Bundle 1 - 5L23
Scrapyard Building Bundle 2 - 5L24
Scrapyard Building Bundle 3 - 5L25
Spike Trap Housing Item - 5L26
Rumble King Don Wig - 5L27
Jort's Trash Can Lid Hat - 5L28
Milo's Magical Staff - 5L29
Fire Pit Housing Item - 5L30
Shock Trap Housing Item - 5L31
Series 5 Virtual Cards List
Cactus Jake - 5U1 - Uncommon
Dorn Geargrinder - 5U2 - Uncommon
Garros - 5C3 - Common
Noggle Cogloose - 5R4 - Rare
Red Stonehammer - 5R5 - Rare
Sarkin Stonehearth - 5C6 - Common
Road Runner - 5C7 - Common
Robgoblin Kaboomer - 5C8 - Common
Robgoblin Mechanic - 5U9 - Uncommon
Robgoblin Shinyseeker - 5U10 - Uncommon
Scrapmaster Fizzbang - 5R11 - Rare
Whirly Willis - 5R12 - Rare
Fire Pit - 5C13 - Common
Nightmare - 5U14 - Uncommon
The Rumbledome - 5R15 - Rare
Robo-Uppercut - 5R16 - Rare
Throw Dynamite - 5U17 - Uncommon
Wrench Toss - 5C18 - Common
Coyote - 5C19 - Common
Jarvus - 5R20 - Rare
Skullz Hooligan - 5U21 - Uncommon
Skullz Roughrider - 5U22 - Uncommon
Skullz Thug - 5C23 - Common
Zandro Rageracer - 5R24 - Rare
Gold-tipped Dragon - 5U25 - Uncommon
Skullz Base Camp - 5R26 - Rare
Spike Trap - 5C27 - Common
Earth Smash - 5R28 - Rare
Run Down - 5U29 - Uncommon
Sucker Punch - 5C30 - Common
Peace-guana Joe - 5R31 - Rare
Rocklar Guardian - 5C32 - Common
Sandscale Hunter - 5U33 - Uncommon
Sandscale Magus - 4U34 - Uncommon
Sandscale Scavenger - 5C35 - Common
Sandspear - 5R36 - Rare
Rocklar Power Artifact - 5R37 - Rare
Spotted T-Rex - 5U38 - Uncommon
Web Trap - 5C39 - Common
Spirit Strike - 5U40 - Uncommon
Sticky Spit - 5C41 - Common
Water-seeker Magic - 5R42 - Rare
Ambusher Drake - 5U43 - Uncommon
Defender Drake - 5C44 - Common
Harley - 5C45 - Common
Quetzalcoatl - 5R46 - Rare
Spiritcaller Drake - 5U47 - Uncommon
Wheelie Pete - 5R48 - Rare
High Voltage Shock Pad - 5C49 - Common
Precursor Ruins - 5R50 - Rare
Unicorn - 5U51 - Uncommon
Chain Lightning - 5R52 - Rare
Heal Drake - 5C53 - Common
Summon Tornado - 5U54 - Uncommon
Sandscale Oasis - 5P1 - Promo (Obtained through Rumbledome questline)
Furious Strikes - 5P2 - Promo (Obtained through Rumbledome questline)
Sandscale Water-seeker - 5P3 - Promo (Obtained through Rumbledome questline)
Milo E. Lizardo - 5P4 - Promo (Obtained through Rumbledome questline)
Mini-Tech - 5P5 - Promo (Obtained through Rumbledome questline)
Flamethrower - 5P6 - Promo (Obtained through Rumbledome questline)
Robgoblin Tinkerer - 5P7 - Promo (Obtained through Rumbledome questline)
Junkmaker Jort - 5P8 - Promo (Obtained through Rumbledome questline)
Shrine of the Elder - 5P9 - Promo (Obtained through Rumbledome questline)
Wind Barrier - 5P10 - Promo (Obtained through Rumbledome questline)
Windwhisperer Drake - 5P11 - Promo (Obtained through Rumbledome questline)
Quizzical Yucca - 5P12 - Promo (Obtained through Rumbledome questline)
Cool Wheelz - 5P13 - Promo (Obtained through Rumbledome questline)
Wrath of the Skullz - 5P14 - Promo (Obtained through Rumbledome questline)
Skullz Commander - 5P15 - Promo (Obtained through Rumbledome questline)
Ironteeth - 5P16 - Promo (Obtained through Rumbledome questline)
Rumble King Don - 5P17 - Promo (Awarded to the player in 1st position.)
Sword Clash - 5P18 - Promo (Unknown how to obtain card at this time)
Morgan Webfoot - 5P19 - Promo (Unknown how to obtain card at this time)
Hank Highjump - 5P20 - Promo (Obtainable through certain tournaments.)
Beast Battle - 5P21 - Promo (Obtainable through certain tournaments)
Calvin Coldcastle - 5P22 - Promo (Unknown how to obtain card at this time)

References
Edit
Credit to Marisol Bluesurf for creating the list,
http://forums.station.sony.com/freerealms/index.php?threads/tcg-checklist.123/