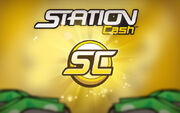 Station Cash, abbreviated to SC, is a form of virtual currency used for microtransactions within Free Realms, such as purchasing items through the Station Cash Marketplace.
The money value on Station Cash is equivalent to

100 = $1 United states dollar. Station Cash was available for purchase through transaction on the official Free Realms website in the following denominations:
Community content is available under
CC-BY-SA
unless otherwise noted.