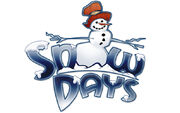 Snow Days is an annual event during the months of December throughout January in celebration of the Winter Holidays.
Snow Days takes place in Snowhill where the The Gifting Tree gives presents to all of the residents of Snowhill. An Evil Snowmen and his little snowmen try to take all the presents for themselfs, and Candi Ivy, who gives you quests, will defeat the Snowman and his evil henchmen.
Quest Line
Edit
The main quest line is givin from Candi Ivy who stands in front of the Gifting Tree in a Santa suit with Candi Ivy on it.
The Gifting Tree (givin every day for repeat)
Main Quests By Candi Ivy
Present Problems 
Holiday Cheer
Silvernows Sapling
Guarding the Gifting Tree
The Perfect Disguise (Members Only)
Robgolbin Robbery Ring (Members Only)
Snowmen Disassembly (Members Only)
An Unexpected Gift (Members Only)
Sub-Quests
Party Animal (By Preston Daly in Sanctuary)
Snowmen Showdown (By Everett in Snowhill)
Bonus Quest line
Bye Bye Supplies! (By Candi Ivy in Snowhill) (Members Only)
Curious Gift Baskets (By Downey In Snowhill) (Members Only)
Holdiay Recital (By  Mayor Crystalline in Snowhill) (Members Only)
Pretty Presents (By Annabelle in Snowhill) (Members Only)
Snow Days 2013 runs from December 1, 2013 through January 14, 2014.
December 2013's Monthly Member Pack Items
Week #1 - 12/3/2013
Happy Holidays! All previous years Snow Days content is now active.
Loot wheels for encounters and minigames (except Crafty Robgoblins) now offer Snow Days toys! Over 700 variations are available to collect and trade!
New Snow Days achievements have been added.
Week #2 - 12/10/2013
Week #3 - 12/18/2013
Community content is available under
CC-BY-SA
unless otherwise noted.