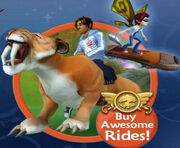 Rides are objects upon which characters can ride, such as a horse or bicycle. Rides are permanent objects that can be used and reused without a cool down timer. They do not appear in your inventory and cannot be sold or traded. You may have duplicates of rides although there is no benefit to this.
Characters on rides move at up to 150% of normal speed but this speed boost does not stack with other speed boosts. Characters on rides may not perform emotes, do not respond to boomboxes, do not respond to illusions, do not visually wield weapons, may not activate effects of any weapons, and may not activate items in their tool belts.
Rides are mainly sold in the SC Marketplace, under the Rides category. There are a few rides available outside of the SC Marketplace though, for example, the Gloamstone Hoverboard requires the player to complete the Heroes TCG questline. Most rides require membership to purchase and use, but if you own a ride and lose your membership, you are still able to use your ride. An exception is the Christmas Polar Bear ride, which could be received by every player by collecting all the Snow Days gift boxes.
To use your ride, click on the saddle in the User Interface and select a ride from the side-scrolling list that appears. This will also cause the saddle icon to change to a saddle with a red slash through it. To remove your ride, click on the saddle with the red slash through it. You may not use a ride while in a minigame, dungeon, or duel. Originally you were able to click on it and select it in a small space where you're ride will be by clicking the arrow you were able to see the next page of rides, as of January 10th 2013 you now select it in a full screen similar to the Pet selection. Since July 1st of 2010 Membership is required for Rides.[1]
List of Rides

Edit
See Also: Training Saddle of Gliding
Players can teach their rides to glide with the Training Saddle of Gliding which can be obtained by completing Troy Ridewrangler's Glide Training.
References
Edit
Community content is available under
CC-BY-SA
unless otherwise noted.