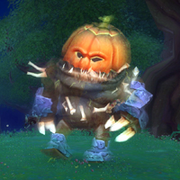 The Pumpkin Prince comes around at Halloween, you can never encounter him unless it is Halloween.
He was first introduced in 2009 in the first Super Spooktacular. He is a boss and will appear randomly at any time during the Super Spooktacular. If he does a notification will pop up on your screen reading "The Pumpkin Prince is terrorizing in (Location in Sacred Grove eg. Blackspore)".
If you wish to encounter him you must teleport to that part of Sanctuary, pick up an ectoplasmic shooter which you will find in a crate somewhere near where the Pumpkin Prince is (He is walking around somewhere in that area and anyone can attack him). He is one of the few enemies that is fought outside of a dungeon or combat ring and does not require a combat job to defeat, all you must do is keep firing at him with your ectoplasmic shooter which will be at the bottom of your screen where your combat moves are (the hotkey for it is 3).
Once defeated he will cry a call in defeat and drop a treasure chest,  which will give you a limited Super Spooktacular reward. If he wins he will cry a call of victory and will not drop anything. He can also spawn enemies such as Grave Elementals or Mushroom Zombies that will attack you with effects that slow you down. The Pumpkin Prince can also attack you with himself and if he strikes you will be turned into a Necrowart Zombie and lose your ectoplasmic shooter ability. You will have to pick up another one when the effect wears off. He also features in some quests at Super Spooktacular  which at one point will require you to encounter him in a combat ring which requires you to be level 13 combat job or above to enter. It is possible to become one after eating a cake that you can get during the Birthday Bash, called the "Boss Cake."
| | | |
| --- | --- | --- |
| " | BOO! Ha! Ha! You will not send me back! | " |
| | ~ Card dialogue | |
In October 2012 during the Super Spooktacular 2012 event, a Trading Card Game promotional Hero card was introduced based on Pumpkin Prince in a Pumpkin Prince TCG Bundle. The bundle contained two Baron von Darkcheat Booster Packs, two Heroes Booster Packs, and one Pumpkin Prince promo card. The card's ID is 4P23.
Snow Days 2013
Edit
| | | |
| --- | --- | --- |
| " | Snow Days Toy [2013 Edition] | " |
| | ~ In-game description | |
A Snow Days 2013 Toy based on the Pumpkin Prince was introduced in-game on December 10, 2013.
Battle Wheels that featured the toy
Community content is available under
CC-BY-SA
unless otherwise noted.