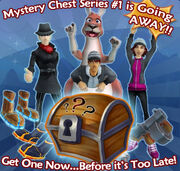 Mystery Chests are a series of chests that are acquired through playing specific mini games.
Originally, Mystery Chests contained a limit on the amount of chests players could earn daily. The original limit consisted of one Mystery Chest each day per player, and was eventually changed to one Mystery Chest each hour per character. The limit was later lifted upon introduction of the Series 2 Mystery Chests: The Sci-Fi Mystery Chest.
During August, 2013 the Mystery Chest Series 1 became unavailable to acquire through mini games.
Series 1: Original
Edit
It's the Original Mystery Chest! Possible items inside include freestyle clothing, Zoot Suit costume, Hover Boots, and the Kangaroo ride.
Series 2: Sci-Fi
Edit
Science-fiction fans rejoice! Tons of new sci-fi themed loot inside and Members have a special opportunity at the Flying Saucer!
Series 3: Clockwork
Edit
Excavated from Sunstone Valley. This chest is loaded with hot items.
Clocktopus Ride
Clockwork clothing
Clockwork Monkey Pet
Snow Days Mystery Chest
Edit
Only available during Snow Days this Mystery Chest is filled with the best Shooshbooming Gear.
Reindeer Ride
Shooshboom clothing
Sleighmobile Ride
Chest of Wonders
Edit
This chest contains a wonderous item inspired by the tales of Scheherazade!
Desert Traveler (Boys Only)
Elegant Desert (Girls Only)
Community content is available under
CC-BY-SA
unless otherwise noted.