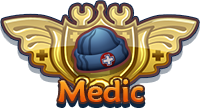 If you love to help friends in need and save people from harm, become a Medic, and use medicine to heal allies, as well as attack angry enemies. Trained by Doc Gordon, Medics can combine technology and natural ingredients to ward off poisons, heal team members and even use shock paddles to stun enemies.
 Membership is not required for Medic.
[1]
| Lvl | Skill | Effect |
| --- | --- | --- |
| 1 | First Aid | Heals yourself and any ally near you for 250 health. Further ranks increase healing. |
| 5 | Target Vitals | Knowledge of physiology allows you to strike at the vital points of your enemy inflicting 133 damage. Further ranks increase the damage dealt. |
| 10 | Vitamins | Makes the medic grow in size, increasing critical hit chance by 1% and increasing critical hit damage by 10% for 5 seconds. Further ranks increase the critical hit and damage %. |
| 15 | Shock Paddles | Causes 50 damage to an enemy and two other enemies near that enemy. Further ranks increase the damage dealt. |
Unlocking Medic
Edit
Medic can be unlocked by visiting Nurse Naia at the hospital in Sanctuary.
Trainers
Edit
Nurse Naia: Sanctuary (unlocks)
Doctor Gordon: Sanctuary (will block partway until lvl 5)
Terrence: The Roadhouse
Clover: Sanctuary (will block partway until lvl 10)
Mayor Crystalline: Snowhill
Docaloc: Briarwood (will block partway until lvl 15)
Doctor Callahan: Seaside (will block partway until lvl 20)
Medic: So You Want to be a Medic? - Nurse Naia
Medic: Operation: Revival - Nurse Naia
Medic: House Call - Nurse Naia
Medic: Palatable Pills - Doctor Gordon
Medic: Take Your Vitamins - Doctor Gordon
Medic: Achieve Level 5 - Doctor Gordon
Medic: Surgical Precision - Doctor Gordon
Medic: Supply Recovery - Nurse Naia
Medic: Medic on a Mission - Terrence
Medic: Tummies in Turmoil - Nurse Naia
Medic: Clover's Crisis - Clover
Medic: Achieve Level 10 - Clover
Medic: A Strong Supplement - Clover
Medic: Flu Season - Doctor Gordon
Medic: A Blustery Blunder - Mayor Crystalline
Medic: Into the Bristlewood - Mayor Crystalline
Medic: Virtuous Venom - Docaloc
Medic: Dewpetal Tea - Docaloc
Medic: Achieve Level 15 - Docaloc
Medic: Shock Paddles and You - Docaloc
Medic: The Missing Patrol - Docaloc
Medic: Shocking Developments - Clover
Medic: Omitted Admission - Clover
Medic: Achieve Level 20 - Doctor Callahan
Magical Shock Rod Essences
Shock Rod Materials
Stories of a Medic
Equipment
Edit
Level 1
Level 5
Level 8
Level 10

Level 12
Level 13
Level 16
Level 19
Level 20
Clothing
Edit
Level 1
Student Medic
First Aid
Amateur Medic
Level 3
Level 5
Level 8
Level 10
Pro Medic Cap
Pro Medic Shirt
Level 11
Level 13
Level 15
All-Star Medic
Pain Relief
Level 17
Level 19
Level 20
Wumperwug in southeast Bristlewood - Lvl 15 weapons
Munchi Elwood in Seaside - Lvl 20 weapons and clothing
References
Edit