Free Realms: The Official Handbook and Strategy Guide




Author(s)

Publisher

Release date

Nov 1, 2010

Media type

Paperback

Pages

96

Ages

7-12[1]
Free Realms: The Official Handbook and Strategy Guide is a book written by Tracey West, and published by Scholastic on November 1st, 2010. The book covers much of the basic information of Free Realms prior to 2011. Although since Free Realms has changed largely since 2010, the book is currently out of date. Currently this, along with the Free Realms: How to Draw Heroes and Villains, are the only Official Free Realms published books.
Publisher's summary
Edit
Back cover
Edit
Welcome to the exciting and magical world of Free Realms - the online adventure game that is a global sensation!
When you enter Free Realms, you become part of a fantastic world, one where fairies and other mystical creatures mix with humans. You can go on unforgettable quests and unlock secrets and surprises, all while making friends from around the world. Plus you can master several careers to give you an edge.
This handbook and strategy guide outlines everything you'll need to know about the game. From learning basic skills to completing quests, to getting to know Free Realms' characters and creatures, with the help of this guide you'll be a Free Realms expert in no time!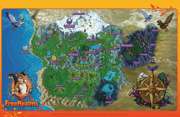 As advertised on the cover, the book includes a Poster and a promotional code. The code included is
ICECREAMSURPRISE
, which grants a consumable named Ice Cream Surprise that contains a Snowflake Effect for 30 minutes. The poster included depicts a labeled map of the
Sacred Grove
atlas
.
Behind the scenes
Edit
The cover states that the book is written by Aaron Rosenberg, where as most big-name websites found online say that it is in fact written by Tracey West.
Although the publisher's store website lists the book as intended for ages 7-12[1], the set age minimum is inconsistent among online websites, implying the intended age groups are 8-12[2], or 9-12[3].
References
Edit
Community content is available under
CC-BY-SA
unless otherwise noted.