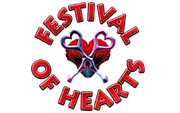 Festival of Hearts is an annual Valentine's Day themed event held from February through March in Merry Vale.
Festival of Hearts celebrates an ancient tale of love between Rylan and Arianna. These two young pixies met long ago in what would later become Merry Vale, but were separated by magic.
At the heart of the festival is a special flower planted by the couple before they were forced apart that still blooms today. It stands out from the rest of the sunflowers in Merry Vale because of its red, pink and magenta colors.
Every year the fairies of Merry Vale celebrate the magic the flower contains: love, friendship, and kindness. This is a time of joy and laughter that draws visitors from all over Free Realms.
Festival of Hearts 2014 began February 4, 2014.
Week #1 - 02/04/2014
Station Cash, Coin Items and all Festival of Hearts content has been unlocked.
Potent Love Potion Take Me There now leads to Gummyfruit Plants instead of harvesting minigame (any red pink plant harvests will still advance quest).
Various quest rewards were updated.
Dubawug has once again upset his sweetheart.
Week #2 - 02/11/2014
Lovely T-Shirt can now stack.
Errand Lover achievement should now properly update.
Community content is available under
CC-BY-SA
unless otherwise noted.