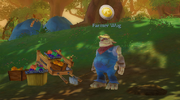 Farmer is a job available since May 2011, unlike other jobs it is not in the rotation. Farmer Wug's cousin, Farmer Chug, will be waiting on the farm to help us out. To get there, first open the Houses menu. Everyone will start out with one free farm: the Wilds Farm. You may access your farm by clicking on "Houses" just like accessing one of your houses or lots .   Farmer Chug will give you advice and quest, which helps you level up. Farmer Chug is a Quest Giver, he gives you quest  and his first task is pulling out weed.
You can get Coins and various items from Farming including Vaultberries in Station Cash item.
Helpful Tips
Edit
If you do farming at power hour you should get a lot of spins and spin out of the beret weels this way you will get 10,000 coins each try plus you might get a beret witch you can sell for more coins or you can have your self.
You should use your soils by putting them down then next time you use the Tiller you will still have that many soils left and you will have twice as many soils this method takes longer but will save you money. 
Vaultberry items
Edit
Unisex Clothing:
Edit
Baseball Caps
Sunglasses 
Heart T-shirt
Robogoblin T-shirt
Striped T-shirt
Swimmer Short Sleeve
Wilds T-shirt
Board Shorts
Bermuda Shorts
Boot Cut Pants
Small Stiched Pants
Orange Strapped Flip Flops
Striped Sandals
Guys Only:
Edit
Baggy Jeans
Cargo Shorts
Flannel Shirt
Hightops 
Hoodie
Layered Shirt
Long Sleeve Flared Shirt
One Stripe Shirt
Striped Shirt
Short Sleeve Plaid
Short Sleeve Flared Shirt
Swirly Shirt
Slipper Sandals
Three Quarted Plaid 
Work Boots
Girls Only:
Edit
Blouse Vest
Boot Cut Pointy Pants
Cardigan Sweater
Closed Toe Sandals
Cowboy Hat
Dark Shoulder Midriff
Filigree Long Sleeve 
Flared Capris
Flared Pants
Hightops
Layered Skirt
One Shoulder Shirt
Peep Toe Pumps
Pink Small Sweater Blouse
Rolled Sleeve Hoodie
Ruffled Blouse
Small Sweater Blouse
Stitched Capris 
Strapped Shoes
Striped Ruffled Blouse
Striped Baggy Pants
Sporty Sandals
Striped Tank Tops
Vest Blouse
Weeding & Farming
Edit
Astro Helmet
Jester Hat
Dobo Side Kicks
Felt Berets
Ku-Fung Shirt
Baseball Cap
Board Shorts
Wilds T-shirt
Swimmer Short Sleeve
White Stitched Fingerless Gloves
Guys Only:
Edit
Gold Trimmed Gloves
Bomber Jacket
Flannel Shirt
Gold Tipped Work Boots
Grappling Hook Pants
Beige Strapped Fedora
Brown Rope Rolled Sleeve Shirt
Brown Rope Fedora
White Stitched Work Boots
White Stitched Boot Cut Pants
Green Rope Pants
Girls Only:
Edit
Designer Gloves
Poofy Blouse Vest
Pink Small Sweater Blouse
Blouse Vest
Riding Pants
Gold Buckled Knee High Boots
Outback Hat
Orange Ker Chief Mid
Orange Belt Rider Pants
Orange Slough Hat
Orange Knee High Boot
Community content is available under
CC-BY-SA
unless otherwise noted.