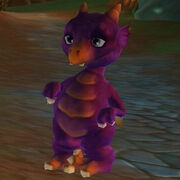 "
Named for the fiery lake beneath Lavender Coast, Embers is a spunky baby dragon who is still perfecting her fiery breath!
Take her home today!
"
~ in game description
Embers is a Pet Pal that was available to everyone in the SC Marketplace from August 20, 2013 through August 26, 2013 at the regular price of

349, and to Members at the 10% discount price of

314.
Currently when equipped, Embers enables a buff granting the owning player an Energy increase of 30. Embers had been one of the two baby pet pals featured at SOE Live 2013.
On August 19, 2013 Free Realms Producer Steve George tweeted a teaser revealing an advertisement image that featured Embers. Embers was officially introduced in game the following day, on August 20, 2013.
Community content is available under
CC-BY-SA
unless otherwise noted.