Darkthrone




Gender

Female

Race

Location(s)

Occupation

Queen of Briarwood
Darkthorne(formerly known as Princess Lavender) is the sister of Queen Valerian. After the assassination of her parents, Geoffrey, Valerian's loyal and most trusted advisor, blamed Lavender and the chugawugs and they were exiled. Lavender tore the Heartseed apart and planted it in Briarheart. She then assumed the name of Darkthorne, Ayani's twin sister.
Darkthorne is Queen Valerian's sister. She was once called Lavender, but changed her name to Darkthorne after her sister exiled her from Sacred Grove. She stole half the Heartseed from the royal palace and took it to Briarheart, where she grew a new version of the World Tree and named it Briarheart Palace.
In the Free Realms
comic book
it is explained how Darkthorne is blamed by Geoffrey for poisoning her sister Queen Valerian. We learn that this is false, and at the end of the comic it is explained how Geoffrey had poisoned Queen Valerian. The comic comes out to a happy ending where Princess Lavander and the two protagonists get an antidote to Queen Valerian and save her. Princess Lavander disappears seconds before Queen Valerian wakes up.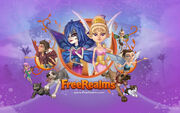 Community content is available under
CC-BY-SA
unless otherwise noted.