Card Duelist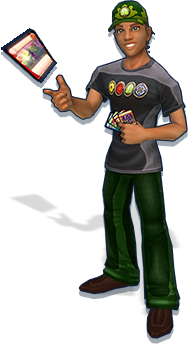 Male Human Card Duelist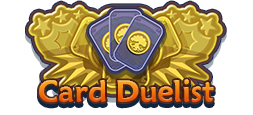 The Free Realms™ Trading Card game is fun and easy! There are trainers in many places who are happy to challenge you to duels. Some will even award you special cards for winning matches. When you start the Trading Card Game for the first time, you will receive a free starter pack. Visit Poe Tatters in Sanctuary to get started.
Card Duelist
is a gaming job, specializing the Free Realms TCG. A freestyle class job, experience is gained by competing against NPCs in the Free Realms TCG and completing the Duelist quests.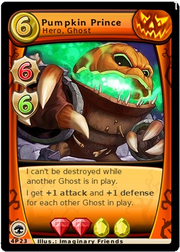 Unlocking Card Duelist
Edit
Card Duelist can be unlocked by activating a quest line with any of the following trainers:
Alternately, if the player speaks with Shifty The Shuffler in Wugachug, a quest will be added to the journal directing them to Poe Tatters in Sanctuary.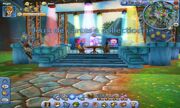 Trainers
Edit
Poe Tatters: Sanctuary (unlocks job)
Sam Potts:[1] Sanctuary (unlocks job)
Garrison Gold: Snowhill (unlocks job)
Jammie Swiftsong: Seaside
Shifty the Shuffler: Wugachug
Sasparilla Brewmaster Wugawump: Wugachug
Ari the Fish: Merry Vale
Herme Fickleleaf: Merry Vale
Maple Sugarleaf: Farnum's Farm
Card Duelist: Pick a Card, any Card: Shifty the Shuffler in Wugachug (optional)
Poe Tatters
Card Duelist: Enter the Champion
Card Duelist: Sam I Am
Sam Potts
Card Duelist: 52 Card Pick-Up
Card Duelist: Practice Makes Perfect
Card Duelist: So Over Archery
Card Duelist: Cardie 4 Life
Poe Tatters
Card Duelist: History of the Crew
Card Duelist: Half a Deck
Card Duelist: Poe's Planted Cards
Card Duelist: Poe's Best Deck
Card Duelist: An Old Friend
Bry
Card Duelist: Battle Bry
Card Duelist: Cardie Party
Card Duelist: Garrisoning Garrison
Garrison Gold
Card Duelist: Serious Business
Card Duelist: Snowhill Showdown
Card Duelist: Shifty Dealings
Shifty the Shuffler
Card Duelist: Misplaced Deck
Sasparilla Brewmaster Wugawump
Card Duelist: Squash the Shuffler
Card Duelist: Parcel Recovery
Jammie Swiftsong
Card Duelist: Monty Has 'Em All
Card Duelist: Just One More!
Card Duelist: Finding the Fish
Ari the Fish
Card Duelist: Proof is in the Cards
Card Duelist: Herme the Hermit
Herme Fickleleaf
Card Duelist: Playing a Prodigy
Maple Sugarleaf
Card Duelist: Best of the Best!
Equipment
Edit
Clothing
Edit
NB! Any non-job specific clothing can be worn with this job. However, there are a few special articles of clothing that can be obtained by completing Card Duelist quests.
References
Edit
Community content is available under
CC-BY-SA
unless otherwise noted.