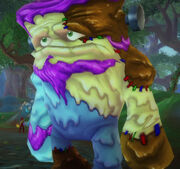 Cakenstein is an enemy who only appears during
Free Realms
 Birthday Celebration (
Birthday Bash
). Cakenstein is a mutant-like walking cake that is as a "Dessert" in
Treasure War
. During the Free realms Birthday event outside sanctuary Cakenstein appears and if you click on him he will give you the "Cakenstein Attacks!" battle but other than that you will sometimes get a message saying "Cakenstein has risen in <
Warpstone
>".
Cakenstein Attacks!
Edit
In the battle Cakenstein Attacks! (Level 13+) you have to simply defeat Cakenstein, but it is not so simple while fighting him he will run around the area eating the cakes and getting stronger while doing it. He seems to have a weakness of the Fire Power-Up by saying "Fiiire!! baaad!!" It is possible to become one after eating a cake that you can get during the Birthday Bash, entitled  the "Boss Cake."
Community content is available under
CC-BY-SA
unless otherwise noted.