Bruce


Bruce performing on the Snowhill Stage

Race

Gender

Male

Hair color

Blonde

Eye color

Silver

Location(s)

Occupation

Merchant and Rock Star
"
Oh man! This is your chance!

Honestly, who hasn't dreamt about being a rockstar, like me, Bruce!
Now you can! Check out these sweet new music blocks and start making your own music in your house!

"
~ Merchant Bruce Dialogue
Bruce is a semiretired Human NPC Rock Star well known for his past performances in Snowhill and Wugachug. Bruce is currently located in Queensfields as a Merchant.
Performances
Edit
Snowhill 2009
Edit
During the first months of Free Realms after launch in April 2009, Bruce had been located on the
Snowhill Stage
where he performed an endless loop of the Free Realms theme song, "It's your world" covered by
The Dares
.
The 1M Party
Edit
On Friday May 15, 2009 at 5pm Pacific Time[1] the Free Realms Ambassador team held a bash at Snowhill in celebration of Free Realms reaching one million registered users within 17 days of launch. The event reported to have had tons of players visiting Snowhill to hang out, dance and have a party.[2] Crowds of players from the party had reached out all around the area, and eventually formed a crowd around Bruce, who had been performing on the nearby Snowhill stage at the time.
The Dares
Edit
Bruce had held solid on his performance for many months and up to early June 2009 as he went on tour,[3] leaving the Snowhill Stage vacant at the time The Dares held their Live E3 Performance on June 2, 2009.
Wugachug 2009
Edit
On June 5, 2009 Bruce made his appearance on the Wugachug Stage,[4] where he continued to perform his endless loop of "It's your world". Bruce had continued performing on the Wugachug Stage until he was removed on August 14 of 2009.[5] August 14th, 2009 was also the day of the update that Free Realms went international,[6] possibily directly linking to his removal as the song "It's your world" covered by The Dares is only available in the English language. It was then said that Bruce had semiretired from performing.
Wugachug Rock Out
Edit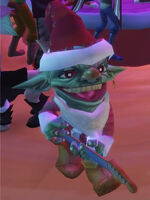 | | | |
| --- | --- | --- |
| " | Be creative and bring your best air guitar act to Wugachug. It's time to rock out! | " |
| | ~ In game Event Calendar[7] | |
On Thursday July 15 and Friday July 16 of 2010, Bruce made a surprise appearance[8] at a schedualed Wugachug Rock Out event at the Wugachug Stage nearly a year after the August of 2009 removal. The show consisted of Bruce performing alongside a Robgoblin band dressed in winter holiday attire, an odd take on Christmas in July. This limited time engagement drew many fans with crowds peaking up to 250-300 people at the Wugachug Rockout.[9] After July 16 of 2010, Bruce continued on with semiretirement.
Forum Poll
Edit
On November 14 of 2011, attention had returned to Bruce as an SOE representative created a thread on the Official Free Realms Forums with a poll asking forum users their opinion on the idea of Bruce returning out of semiretirement.[10] The turnout of the poll concluded with a large majority voting yes to the idea, and SOE representative Floyd Bishop stating he will see what he can do.
| | | |
| --- | --- | --- |
| " | I'm just checking in on this poll now. It looks like I may have to see if I can get Bruce to come back from seclusion. The last I heard, he was doing a show for a bunch of Rocklars in Sunstone Valley. I'll try and get in touch with his manager and see what I can do. | " |
| | ~ Floyd Bishop[11] | |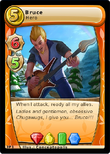 | | | |
| --- | --- | --- |
| " | Ladies and gentlemen, obsessive Chugawugs, I give you... Bruce!!! | " |
| | ~ Card dialogue | |
On February 14 of 2012, A Trading Card Game promotional Hero card was introduced based on Bruce in the Series 3 Baron Von Darkcheat Expansion. The card's ID is 3P1 and currently has not been released to the players.
Bruce Offstage Passes
Edit
"
A Rock Legend Returns!
You heard right, rockers. Bruce is back and playing a show near you!
Check out your Quick Items for Bruce's Offstage passes!
"
~ In Game advertisement Dialogue
On April 1 of 2012, as an April Fools surprise, each player that logged on Free Realms that specific day received 5 free Bruce Offstage Passes. These passes allowed players the ability to summon Bruce to perform anywhere at anytime. The passes are tradable, non-reusable consumables.
Queensfield Merchant
Edit
In late December 2012, Bruce had been introduced as a NPC Merchant that can be found in Queensfields where to Playground had been. Bruce specifically sells Music Blocks and has a Music Block demo set up around him for players to try out the furniture.
Snow Days 2013
Edit
| | | |
| --- | --- | --- |
| " | Snow Days Toy [2013 Special Edition] | " |
| | ~ In-game description | |
A special edition Snow Days 2013 Toy based on Bruce was introduced in-game on December 10, 2013. It was acquired through purchasing the 2013 Snow Days Toy Collector Pack Marketplace Bundle.
Bruce appears in various Battles from the early months during launch of Free Realms.
Thugawug Sneak!Edit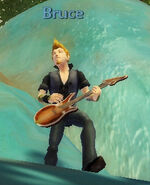 "
'Bruce: It's your world... You can do what you want to do... Please help me... They won't let me stop playing this song!
Bruce: Rock is the word! Rock is the power! Yeah yeah!
Thugawug Fan: Go, Bruce! I never get tired of this song!
Thugawug Fan: Play the Free Realms song! Or else!
***
Bruce: Thank you for rescuing me from those crazed fans! Let's get out of here!'
"
~ In game dialogue
Thugawug fans kidnap Bruce and force him to perform "It's your World" covered by The Dares. The goal of the battle is to save Bruce.
Main article: Thugawug Sneak!
Treasure of the Bone Shaman!Edit
Bruce made a very brief appearance in the battle performing on top of the right most skull for an unknown reason. This area had been originally approachable by players until eventually it was patched at an unknown time.
Main article: Treasure of the Bone Shaman!
Controversial Quest
Edit
In the former quest Excuses, Excuses! from the early months of Free Realms after launch, the player is asked to assist a young Druid in playing hooky from school to see a Bruce concert.
| | | |
| --- | --- | --- |
| " | Milla wants to play hooky from school so she can see Bruce perform in Snowhill. She has asked you to tell her teacher, Tilda that she is too sick to come to school. | " |
| | ~ In game quest Summary | |
Milla can still be found hiding in the bushes of Shrouded Glade. The concept of assisting a child to play hookey from school led to the quest's removal.
Early Character Design
Edit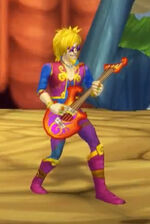 An early character design of Bruce had been glimpsed in an Official Free Realms Trailer
[12]
released months before Free Realms had launched. The character design had portrayed Bruce as a
glam rocker
.
Appearances
Edit
References
Edit
Community content is available under
CC-BY-SA
unless otherwise noted.