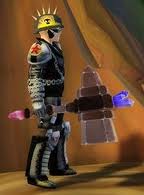 Brawler's Atlas Hammer of Rumbling is a level 16 Brawler weapon. It is acquired from the Coin Shop where it sells for

2152 and it is also acquired from the prize wheels at Snowy Canyon and Wraiths of Wrath!.
Required
Edit
Level 16, Brawler
Wallop: Lets loose a powerful swing that damages all opponents around you.
Deals 2609 damage.
Ready to Rumble: Unleashes your fighting spirit! Damages all nearby opponents and increases your power.
Deals 5977 damage.
Increases overall damage.
This article contains information originated from the formerly known as


Brawlwiki
The encyclopedia of Free Realms weapons
Community content is available under
CC-BY-SA
unless otherwise noted.