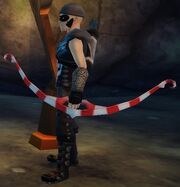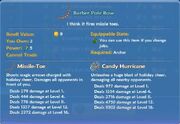 I think it fires missile toes.
Barber Pole Bow is a level 1 Archer weapon. It is acquired from the prize wheel on Crafty Robgoblins! (Crafty Robgoblins) during the annual Snow Days.
Cannot Trade.
Required
Edit
Level 1, Archer
Missile-Toe: Shoots magic arrows charged with holiday cheer. Damages all enemies in front of you.
Deals 279 damage.
Candy Hurricane: Unleashes a huge blast of holiday cheer, damaging all nearby enemies.
Deals 889 damage.
This article contains information originated from the formerly known as


Brawlwiki
The encyclopedia of Free Realms weapons
Community content is available under
CC-BY-SA
unless otherwise noted.